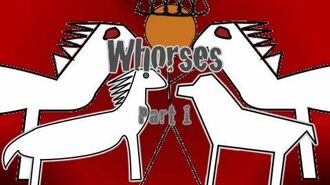 Whorses Part 1, The Mystery, was uploaded to youtube under the account, Vincal Holmes on, December 13, 2012, a week after the trailer was first released.
Its an animated thriller based in an unknown, mysterious world, where you'll have to constantly watch your back. The story follows two characters, Whorses and "Dog", who try to solve the mystery. Things don't go smoothly, however. Trouble arises inside the legendary temple when they run into two worthy foes, Demonic Whorses and Chakka Lakka.
Ad blocker interference detected!
Wikia is a free-to-use site that makes money from advertising. We have a modified experience for viewers using ad blockers

Wikia is not accessible if you've made further modifications. Remove the custom ad blocker rule(s) and the page will load as expected.